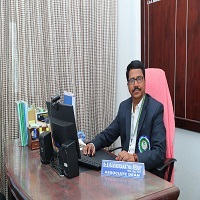 Biography
Dr. B. Ravindranatha Reddy
Dr. B. Ravindranatha Reddy, retired Associate Dean of Sri Venkateswara Agricultural College, Tirupati has vast experience as Agronomist in Dryland Agriculture, Irrigation Water Management Research and Teaching in Acharya N.G. Ranga Agricultural University. As a Chief Scientist of All India Coordinated Project for Dryland Agriculture, Agricultural Research Station, Ananthapuramu from 2008-2011 and 2016-2018 he has standardized agronomic practices for a rainfed groundnut for Andhra Pradesh.
His work on development of contingent crop planning (field bean, pigeonpea, castor, greengram, sorghum and horsegram) for delayed monsoon conditions and groundnut based cropping systems (groundnut+pigeonpea, groundnut+castor) pigeonpea based cropping systems for alfisols of rainfed region of Andhra Pradesh are note worthy. Popularized the technology to collect runoff water of rain in a farm pond with soil and cement lining to prevent seepage losses and use stored water as supplemental irrigation of 10 mm through sprinkler at times of moisture stress increased pod yield of groundnut to 25-30 per cent in Ananthapuramu district. Responsible for establishment of custom hiring centre for farm implements and machinery during the year 2009-10 at Agricultural Research Station, Ananthapuramu and popularized mechanization in rainfed groundnut.
As a Co-Principal Investigator of ICRISAT Project - Development and Popularization of 'Model' Seed System(s) for Quality seed Production of Major Legumes to Ensure Seed - Sufficiency at the Village Level during 2008 to 2011, he has evaluated different varieties of groundnut (K-6, Narayani, ICGV 91114, ICGV 86015, ICGV 00308 and ICGV 00350) at village level and spread improved varieties in Ananthapuramu district.
As a Senior Scientist of Agronomy in the Operational Research Project (ORP) of A.P. Water Management Project (The Netherlands assisted FAO Project), Network Center, Regional Agricultural Research Station, Tirupati, for the period 2003-2008, the following were his significant contributions.
The operational research project work was implemented in Musilipedu tank ayacut, Yerpedu Mandal, Chittoor district.
Farmers of Musilipedu Tank Ayacut (Yerpedu Mandal, Chittoor district) were used to grow rice (transplanted low land) under complete flooding condition through out the crop period. Since, 2004 less water rice System of Rice Intensification (SRI) and Alternate Wetting Drying (AWD) were introduced in the ayacut. There was realization among majority of the farmers of Musilipedu tank ayacut that AWD in rice will result in higher grain yield and continuous flooding in rice results in poor yields. Thus, the interventions by way of System of Rice Intensification (SRI) and Alternate Wedding and Drying (AWD) gave fruitful results. Farmers were introduced to application of pre-emergence herbicides (butachlor, anilophos etc.,) to control weeds in AWD, since more weed infestation occurs in AWD.
Application of 2,4-D Na salt at 1.0 kg ai/ha as post emergence to Ipomea carnea weed in tank bed gave complete control of the weed. In 2007, about 18.0 ha area of tank bed in musilipedu was cleared from Ipomea carnea weed by application of 2,4-D Na salt.
Some important achievements as Associate Dean of Agricultural College, ANGRAU, Mahanandi, Kurnool Dist. Andhra Pradesh during 2011 to 2016.
Initiated Post Graduate programme in three disciplines i.e. in 2012-13 in Agril. Economics, Agril. Extension and Entomology.
Agricultural College, Mahanandi had collaboration with spoken tutorial project of IIT Bombay, an initiative of National Mission on Education through ICT, NHRD, and Government of India in 2014-15. The students of Agricultural College, Mahanandi have succeeded in the online test on later conducted by IIT, Bombay.
A spacious air conditioned Conference hall established (to accommodate 100 participants) with LCD Projector, Computer, TV, public address system and UPS.,
There are four well equipped Lecture halls. Every Lecture hall was provided with LCD projector, Computer, T.V. public address system, white board and UPS.
Faculty boards (Agriculture, Agricultural Engineering and Technology, Home Science and Post Graduate studies) of ANGRAU meeting was organized at Agricultural College, Mahanandi on 27th January, 2015.Academic Council meeting (94th) of Acharya N.G. Ranga Agricultural University was organized at Agricultural College, Mahanandi on 28th June, 2015.
First phase of "Inter collegiate sports, games and cultural meet of ANGRAU 2012-13" was organized from 03-10-2012 to 06-10-2012.
Third phase of "Inter collegiate games, and cultural meet of ANGRAU 2014-15 " was organized from 31-01- 2015 to 03-02-2015.
Students of Agricultural College, Mahanandi secured 1st, 6th, 14th, 16th, 24th, 25th, 27th, 31st, 52nd, 62nd, 63rd, 84th and 90th ranks in P.G. entrance examinations of ANGRAU, 2014 (combined state Andhra Pradesh and Telangana).
A separate kitchen facility was created in girls hostel during 2011-12 which reduced the hostel mess bill for girls compared to earlier (combined with boys) besides sufficient quantity of food served to girl students.
Kameswari-II girls hostel (accommodation for 60 girl students) was constructed in 2014-15.
Surya nandi boys hostel was constructed to accommodate PG students (60No.), and Gymnasium in 2014-15.
Generators provided for boys and girls hostels as alternate source for electricity.
R.O. Water purification system worth Rs.1.8 lakh was added during the year 2014-15 and fixed.
CC surveillance cameras provided in examination hall, Library, girls' hostel lecture halls and common area in 2012 for better monitoring.
Biometric time attendance machine (touch finger print time & attendance recorder) installed for monitoring of staff.
Responsible for preparation of Self Study Report (SSR) of Agricultural College, Mahanandi for the period 2008-09 to 2012-13 and submitted to the ICAR Peer Review Team (PRT) through University for ICAR Accreditation. Presented the activities and progress of Agricultural College, Mahanandi during the above period through Power Point Presentation and exhibition in the presence of ICAR Peer Review Team (PRT) headed by Dr. P.G. Chengappa (Former Hon'ble Vice Chancellor, UAS, Bengalore), Chairman and Committee members and Dr. A. Padmaraju, the then Hon'ble Vice-Chancellor, ANGRAU.
Achievements as Associate Dean of S.V. Agricultural College, Tirupati (2020-2022):
National Conference for Post Graduate Students on "Multidimensional Approaches for Sustaining Food and National Security" was organized at S. V. Agricultural College, Tirupati and I have acted as Mentor for the programme. Necessary guidance for the successful conduct of the event was given. Several Post Graduate Students of ICAR Institutes and SAU'S have participated in the National Seminar.
Acted as mentor for monitoring of Affiliated Agricultural College of ANGRAU for Academic and Infrastructural Developmental Activities.
50th Annual Convocation of ANGRAU was held on 10.08.2021 at Mahati Auditorium and was organised by S. V. Agricultural College, Tirupati. For the Convocation and served as Local Organising Secretary.
Peer Review Team (PRT) headed by Dr. Nazir Ahmad, Former Honourable Vice Chancellor, SKUAST, Kashmir has visited S. V. Agricultural College, Tirupati on 5.9.2021 and 6.9.2021. The Self Study Report pertaining to S. V. Agricultural College, Tirupati for the period 2015-2020 was presented in the form of Power Point Presentation. The various activities of college along with academic, laboratory, hostel and other infrastructural facilities were explained to the members of the PRT. Later the members have visited and inspected the various facilities available at S. V. Agricultural College, Tirupati.
Responsible for beautification of the campus with lawn black top roads and renovation of old structure as visitors lounge near institute of Agri Business Management.
Awards Received:
| S.No. | Name of the Award and Year | Organization |
| --- | --- | --- |
| 1 | Dr. A.V. Krishnaiah 'Best Scientist' award 2006 | ANGRAU |
| 2 | Life time achievement award in the field of Agronomy - 2015 | Global Research initiatives of sustainable Agriculture and Allied Sciences (GRISAAS) |
| 3 | Vasantarao Naik Award 2017 for Outstanding Research and Application in Dryland Farming System | ICAR, New Delhi |
Experience Particulars
| S.No. | Service Particulars | Duration |
| --- | --- | --- |
| 1 | Total Service in ANGRAU | 36 Years |
| 2 | Service in the cadre of Professor (Direct) | 12 Years 2 Months (August 2008 to January 2022) |
| 3 | Service in the Cadre of Associate Dean in ANGRAU | 6 Years (Agricultural College, Mahanandi 2011 to 2016 and S.V. Agricultural College, Tirupati 2020 to 2022) |
Associate Dean's Message
---
Dear Student,
Greetings from Sri Krishnadevaraya College of Agricultural Sciences!
With a population of 1.35 billion India is the world's second most populous country. It is the seventh largest country in the world with an area of 3.288 million sq kms. With the highest mountain range in the world, the Himalayas to its North, the Thar desert to its West, the Gangetic delta to its East and the Deccan Plateau in the South, the country is home to vast agro-ecological diversity. India is the world's largest producer of milk, pulses and jute, and ranks as the second largest producer of rice, wheat, sugarcane, groundnut, vegetables, fruit and cotton. It is also one of the leading producers of spices, fish, poultry, livestock and plantation crops. Worth $ 2.1 trillion, India is the world's third largest economy after the US and China. India is blessed with large arable land with 15 agro-climatic zones having almost all types of weather conditions, soil types and capable of growing a variety of crops.
Agriculture in India is livelihood for a majority of the population and can never be underestimated. Although its contribution in the gross domestic product (GDP) has reduced to less than 20 per cent and contribution of other sectors increased at a faster rate, agricultural production has grown. This has made India as self-sufficient and taken us from being a begging bowl for food after independence to a net exporter of agriculture and allied products.
Total food grain production in the country is estimated to be a record 291.95 million tonnes, according to the estimates for 2019-20, and demand for food grain would increase to 345 million tonnes by 2030. India is an agricultural country. Agriculture and its allied activities act as main source of livelihood for more than 80% population of rural India. It provides employment to approximately 52% of labour. Its contribution to Gross Domestic Product (GDP) is between 14 to 15%. At the time of Independence, India faced food grain shortage. India achieved spectacular growth in agriculture sector since 1966. India today is self sufficient in most of the food grain despite population increase.
Increasing population, increasing average income and globalisation effects in India will increase demand for quantity, quality and nutritious food and variety of food. Therefore, pressure on decreasing available cultivable land to produce more quantity, variety and quality of food will keep on increasing.
In spite of all these facts, the average productivity of many crops in India is quite low. The country's population in the next decade is expected to become the largest in the world and providing food for them will be a very prime issue. Even after over seven decades of planning since the independence, majority of the farmers are still facing problems of poor production and/or poor returns.
Modern agriculture practices are increasingly turning out to be knowledge-based and hence gaining expertise in them is very essential. India has achieved significant growth in agriculture, milk, fish, fruits and vegetables owing to green, white, blue and yellow revolutions. All these revolutions have brought prosperity for the farmers. Many factors are responsible for these achievement viz conducive government policies, receptivity of the farmers and also establishment of higher agricultural education institutions.
In order to sustain, diversify and realize the potential of agriculture sectors, it is necessary to develop skilled human resources. Agricultural human resource development is a continuous process undertaken by Agricultural Colleges / Universities. Agricultural Colleges impart education in the various disciplines of agriculture viz., Agriculture, Agricultural Engineering, Forestry, Horticulture, Animal Husbandry, Dairy Science, Food Technology, Fisheries Science, Agriculture Information Technology and Agri. Business Management etc. It imparts education at the level of Degree, Masters and Doctoral level. Presently, agriculture faces many challenges such as (i) Low productivity (averaging to 60% of world average), (ii) Decreasing profitability in farming, (iii) Rising quality competitiveness under the pressure of globalisation, (iv) Poor linkage of farms with the market, (v) Low knowledge of input agriculture, (vi) Wide gap between lab and land experiments, (vii) Low level of mechanization and value addition (viii) Supply Chain Management and Product Lifecycle Management, (xi) Lack of qualified manpower to address the new and emerging challenges and deliver at grassroots level, (x) Mounting threat to sustainability arising from depleting quality of natural resources, biotic and abiotic stresses and inefficient use of agro-inputs and (xi) Poorly coordinated natural disaster management system. To properly address these challenges, competent human resource in sufficiently large numbers would be required in the near future. To achieve this, a renewed thrust for higher agriculture education is necessary. There is a vast scope for young graduates to undertake agriculture as their profession which is directly or indirectly contributing to the economic and social development of the country.
The traditional career opportunities are there in Government departments, research and education, nationalized banks, agri-inputs industry and Government and Policy making Agencies. The emerging sectors include Agribusiness, food processing, financial sector, retailing, rural Marketing, international trade, rural credit and insurance, warehousing, NGOs and KPOs.
Dr. B. Ravindranatha Reddy
Associate Dean