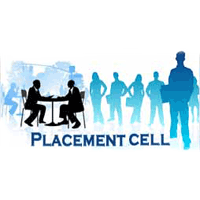 Placement Cell
Placement Cell, The college has established a Placement cell headed by teaching faculty as officer in-charge. The activities of the cell include counseling, coaching, organizing trainings, guiding in career development, dissemination of job information and placement of college students. The cell guides the students in selecting right career choice and higher education in India and abroad. The cell invites professional experts, consultants and corporate professionals to teach, guide and counsel the students. In addition to external experts, the college faculty also organizes regular classes to help students in preparation of competitive examinations.
⦁ Continuous CRT training from the course.
⦁ Weekly seminars as part of the curriculum.
⦁ Knowledge sessions from Industry experts.
⦁ Dedicated Placements cell.
⦁ Continuous activities throughout the course that includes resume preparation, mock interviews, group discussions and much more.
⦁ Arithmetic reasoning and Aptitude classes are offered as part of the course curriculum.
⦁ Resume preparation
⦁ Mock Interviews
⦁ Communication and public speaking skills
⦁ lazain between alumni students and student feternity
⦁ linked in other social media presense
⦁ Neet and greet with a charge MNCs
⦁ Collaboration with local training establishments
Placement cell activities:
⦁ To maintain passed out students data for both job seekers and job provider.
⦁ To conduct classes for enrichment personality development, communication skills and professional competency of students.
⦁ To organize coaching classes for JRF and other competitive examinations.
⦁ To execute internship and training programme.
⦁ To organize campus interviews.
---
The following Placement Cell Committee constituted for academic year 2023-24.
| Sl.No | Name of the Member | Designation |
| --- | --- | --- |
| 1 | Dr. B. Ravindranatha Reddy, Associate Dean, SKCAS, Ananthapuramu | Chairman |
| 2 | Dr. G. Govardhan , Officer -in -charge of Placement Cell | Convener |
| 3 | Mrs. A. Vidyasri, Assistant Professor & Additional Officer -in -charge of Placement Cell | Member |
| 4 | Dr. A. Sandana Kirouchinene , Assistant Professor & JRF Coordinator | Member |
| 5 | Ms. K. Bhanu Rekha, Assistant Professor | Member |
| 6 | Mr. S Shashavali, Clerk | Member |
Placement Activity